FN2000 Build... So far:
For those who don't know, I'm trying my best to make 4 foot long FN2000. Haven't gotten to that part yet, but in the meantime I got the gun on Tuesday, and by Saturday had replaced the motor, spring, piston and piston head all for DMR status. Then today I decided to go ahead and give it the full work over... and try and get it as quiet as possible.
I think this gun is the most dangerous one I will have ever fielded. At 30 feet downrange the wizz of the BB drowns out the minor thump of the piston.
An idea of what I was dremmeling away in the battery compartment...
A look into the stock of the gun. Expanded battery compartment, and foam pieces being cut to fit.
A look at the battery compartment fully loaded... Cheetah 2n mosfet and a 11.1 3200mah 30c battery.
Looking toward the GB from the front end, showing some of the styrofoam pieces. There is one lacking that I put in through the hop up adjustment window in the top of the gun after the hop up was set.
I am still planning on adding an extended rail system of some type, and running a silencer through it to get the Socom CQB look like this: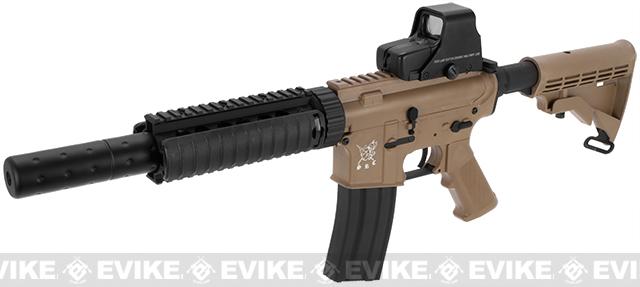 Parts are on the way
Here is the build list, roughly.
G&G FN2000
JG Blue Motor
SHS 18:1 gears
SHS 15 Steel Tooth Piston
SHS Piston Head.
Sorbo pad and AOE prefected, required almost eliminating the 1st 'tooth' on the piston
SP150 spring
Re-wired with 16GA wire, deans, etc. Set up for removable interchangeable mosfet (Cheetah 2n at the moment)
11.1v 3200mah 30c Lipo
Flat Hopped, and whole front end of Hop Up unit is teflon taped. No air leakage here
Tightbore of some type that was laying around
G&G FN2000 Tri Rail System
NC Star 4-16x50 P4 Sniper Scope
Bipod
Big shout out to Thebutnugget for doing most of the work
He wanted a little hands on time on the gearbox of a DMR build. He's better at hop up work than I am though.